Advantages of new Kirovets were esteemed at YugAgro-2015 Exhibition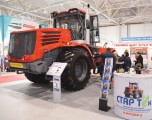 Official dealers of St. Petersburg Tractor Plant have made contracts for supply of over 30 machines to the Southern Federal District, at the major exhibition of the region – YugAgro-2015.Kirovets of three different configurations were presented by the companies - Bizon-Trade, TVK-Yuzhny and Startek.
A new look of the tractors and multiple design changes have been duly appreciated by the distinguished guests of the Exhibition - the Deputy Minister of Agriculture of RF E. Gromyko, the Head of Krasnodar region V. Kondratiev, and the Deputy Head of Administration of Krasnodar region A. Korobka.
The Head of Krasnodar region has shared his impressions of the exhibitions and new machinery:
- One of the task which the branch faces today is competition development. Domestic manufacturers of agricultural machinery are in no way at a deadlock, they are developing, and this is witnessed by this exhibition. Large variety of the machines themselves, scientific research results, and new approaches in agricultural production – everything indicates that agricultural machinery producers are struggling for the market.
The competitiveness of Kirovets tractors was confirmed by Director of Startek company E. Skiba. According to him, at the exhibition contracts were made for supply of 15 machinery items, 4 of which will be shipped to major agricultural holding "APK "Kubankhleb". The interest is driven by affordable price, productivity and high quality service.
Commercial Director of TVK-Yuzhny, Rostov-on-Don company, D. Anin has assessed the participation in the exhibition as unconditionally successful, "Following the negotiations, we signed contracts for supply of 4 Kirovets, we also plan to have about ten contracts concluded by the end of the year. We will definitely participate in the following year."
Bizon-Trade company focused on the newest agricultural technologies: next to Kirovets K-744P2, modern samples of implements from Lemken, Amazone, Gaspardo and Almaz were placed on display on the open air exhibit area.
YUGAGRO is the major agricultural and industrial exhibition in Russia. In 2015 YUGAGRO Exhibition was included for the first time in Ekspograd Yug Exhibition and Convention Center, with 4 exhibition halls and 2 open air exhibit areas. The total exposition area was 56400 sqm. 680 companies from 33 world countries and 38 Russian regions took part in the Exhibition. National expositions were presented by 5 foreign countries - Germany, Italy, China, Turkey and France.