General principles of our Quality Management System
Quality Management System is a documented activity of factory operation and management with regard to quality of performed works and finished products, which is aimed at continuously increasing customer satisfaction.
Quality Management System (QMS) is intended to ensure finished products and services quality and adjust this quality to customer expectations. The main purpose of QMS is not to control, but to establish a system which will enable to avoid errors.
Quality Management System Model: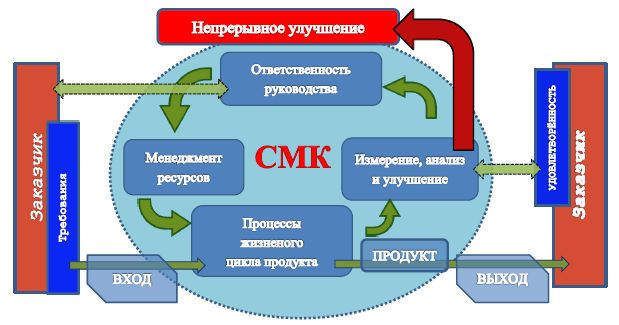 Our operating principles:

Customer focus

-we depend on our customers (consumers) and therefore should understand, meet their requirements

Leadership

-our leaders ensure fulfillment of tasks related to quality and production activity, create and maintain the most effective internal environment

Involvement of people

-maximum use of creative and professional potential of all factory's employees

Process approach

-management of distinct interrelated processes of the factory's production activity

System approach to management

-management and administration of interrelated processes as a system

Continuous improvement

-continuous improvement at all levels of the factory's activity

Factual approach to decision making

-the most effective decisions are based on accurate and full collection, analysis of data and information

Mutually beneficial supplier relationships

-the factory and its suppliers are interdependent