New Kirovets are waiting in Orenburg region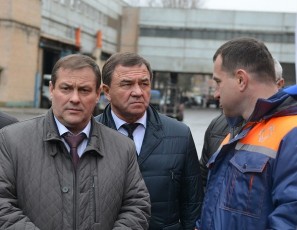 On December 3, the Minister of Agriculture, Food and Processing Industry in Orenburg region M.G. Maslov visited St. Petersburg Tractor Plant and conducted negotiations with the Factory CEO S.A. Serebryakov.
The main subject of the negotiations was supply of Kirovets tractors to the farm businesses of Orenburg region in the first half of 2016. Beside this, the parties also discussed organization of spare part warehouse.
During the factory tour the Minister saw a new line of Kirovets tractors, visited tractor assembly line, appreciated the factory production system. The Factory CEO Sergey Serebryakov told the guests about multiple step quality control system for manufactured machinery, implementation of which helped to reduce complaint rate by 11 times within the last four years. The reliability of machines became one of the factors which ensured high demand for the products of St. Petersburg Tractor Plant that keeps increasing production against the backdrop of a global economic slowdown. So, for example, the factory produced 8 high-power agricultural tractors per day in November.
"We were really impressed by the high level of production process organization, strict technological discipline. I am sure the obligations to supply finished machines will be met on time," M.G. Maslov said.
The outcome of the meeting was the discussion of delivery schedule for 100 Kirovets in the first half of 2016.