The farmers made a choice in favor of "Kirovets"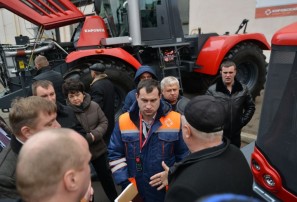 December 21, St. Petersburg tractor plant and its official Dealer – the company "Business Garant" organized "client's Day". To meet the new production system and a production tractor came 15 people from Kursk and Orel regions and the Republic of Crimea.
By tradition, the guests were shown the factory workshop, last change in design "Kirov workers", made a presentation on comparative tests of the equipment. As it turned out, most of the guests have in their fleet as foreign tractors of high power, and domestic. Imported machines and new "Kirov workers" working on the margins of these areas, approximately an equal amount.
2014 update tractor fleet is increasingly happening at the expense of "Kirov workers" series TO-744Р. A crucial role is played by the reasonable price and reliability and agregatiruetsya with modern guns, which previously could boast only imported machines. Last year the Factory shipped Kursk more than 10 machines by the end of this year – already 25 units.
A pleasant surprise for the workers was the arrival of 3 representatives of the Republic of Crimea. Including the Chairman of KFH "Sakhalin" - Suslov A. P. The initiator of the meeting was the leadership of the Kursk region, which implements the project for the mentees farms from 3 districts of the Republic of Crimea: Saki, may day and Krasnogvardeyskaya. Co-organizer of the tour was the 1st Deputy Minister of agriculture of the Republic of Crimea Nikolai Polyushkin.P.
It should be noted that the communication of workers with the farms of the Crimea was held not for the first time. And in the spring and summer of this year on fields of the Republic were carried out demonstrations and presentations. For the first time in many years, began deliveries. All participants of the Day the client agreed that the tractors "Kirovets" have recently become a reliable assistant in Central Russia, and the hot fields of the Crimean Peninsula.