Plant newcomers for the 2016-2017 farming season
CJSC Peterburgsky Traktorny Zavod (a subsidiary of OJSC Kirovsky Zavod) unveiled its latest lineup of Kirovets-brand agricultural equipment at the Sixth International Specialized Exhibition of Agricultural Machinery – Agrosalon-2016 – on 4-7 October in Moscow.
The plant's stand at the International Exhibition Center "Crocus Expo" was the backdrop for a presentation of the company's newest line of K-4-series, drawbar-category-4 tractors, developed with input from the RF Ministry of Industry and Trade. Three tractors from the pilot batch, 190, 220 and 240 hp, painted in the bold colors of the Russian flag, were the crowning "gem" of the exposition. The stand also offered visitors the chance to get a close-up look at the updated 2016/17 model of the
K-744P4-series Kirovets and K-744P caterpillar tractor. Yet another debut at the exhibition was made by an innovative advancement developed by Peterburgsky Traktorny Zavod – the T5 automated gearbox, with its breakthrough "Command Post" operating system. The enterprise also showcased the products offered by PTZ key partners at the stand. It was in this spirit that the Yaroslavl and Tutaev Motor Plants used the occasion to demonstrate their cutting-edge, Stage IIIa environmental-class engines for Kirovets tractors.
High praise for Peterburgsky Traktorny Zavod's latest product lineup was given by the RF Minister of Industry and Trade, Denis Manturov, during his visit to the exhibition on 5 October. Enterprise Director Sergey Serebryakov took part in the working meeting between the Minpromtorg chief and the heads of the country's leading domestic agricultural-equipment manufacturing plants.
The PTZ stand at Agrosalon 2016 was visited by more than 25,000 people, including roughly 5,000 potential customers: agrarians from more than 30 national regions, as well as dealer representatives from the Czech Republic, Australia, France and Bulgaria. Dealerships from Lithuania, Hungary and Germany even announced their desire to become official Peterburgsky Traktorny Zavod dealers.
During the course of business meetings, agreements were struck on supplies of 130 tractors to the country's five largest domestic agricultural holdings by the end of the year, with another roughly 80 tractors slated for possible shipment to major farming enterprises. Approximately 80 pre-orders for PTZ's latest breakthrough – the Kirovets K-4 – should also be viewed as a resounding success.
Background:
CJSC Peterburgsky Traktorny Zavod (a subsidiary of OJSC Kirovsky Zavod) manufactures 7 different modifications of К-744Р-series Kirovets agricultural tractors with 300-430 hp engines and 17 different specifications for road-construction and specialized equipment, manufactured on the basis of Kirovets industrial tractors.
The plant's equipment is backed by warrantee and maintenance servicing through the company's expansive network of representative offices and dealerships (over 60 centers in Russia, the CIS and countries of the far-abroad).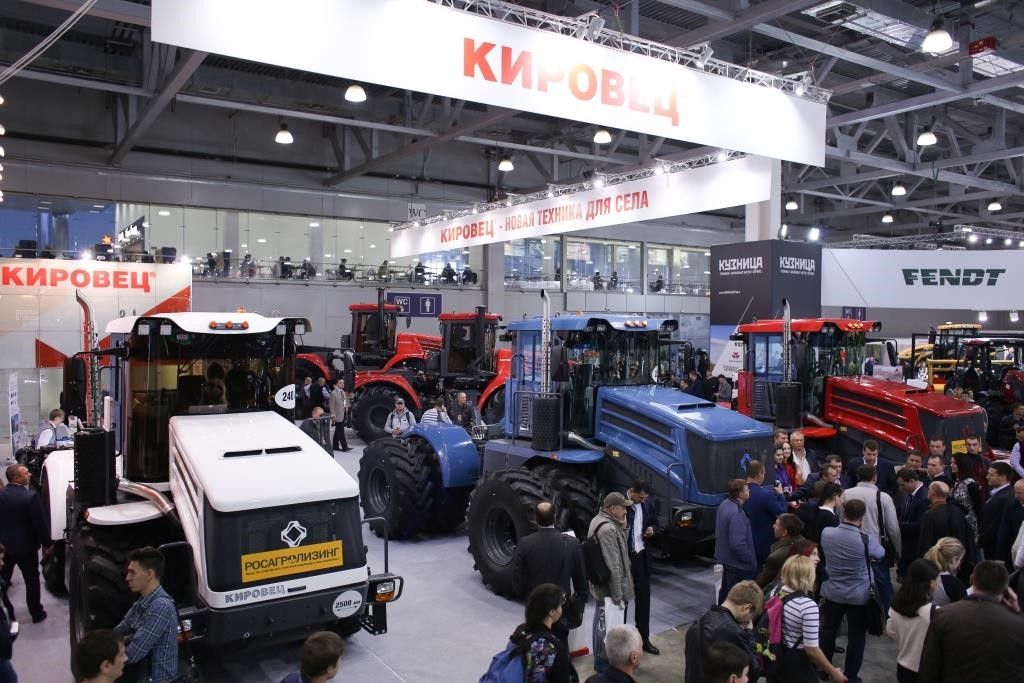 Lineup of K-4-series KIROVETS tractors in the bold colors of the Russian flag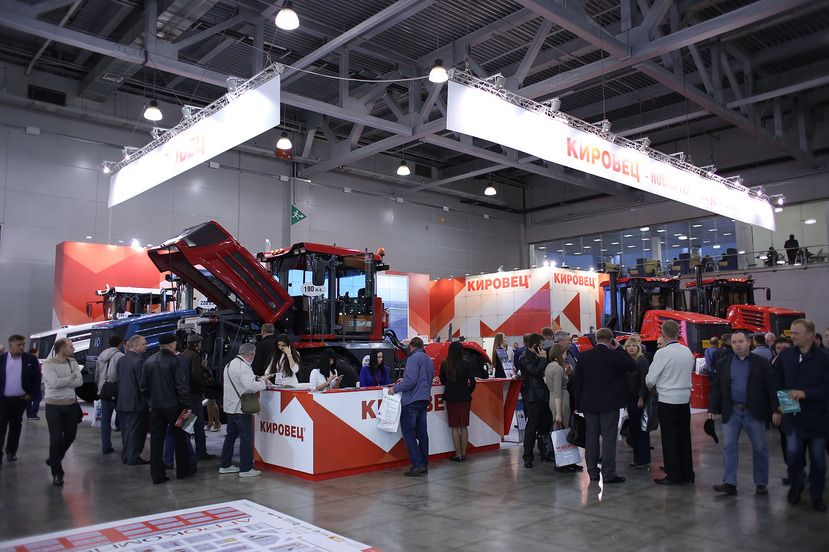 General view of the stand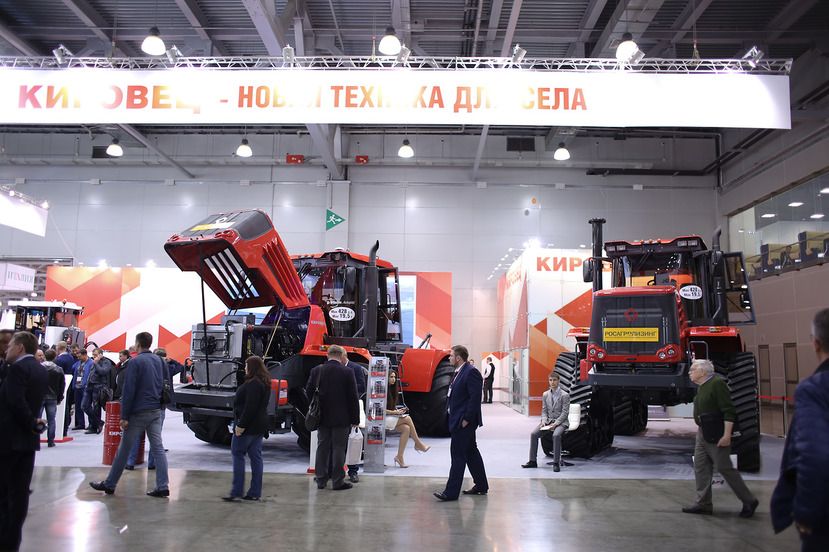 К-744Р-series KIROVETS tractors: on wide-gage tires and treads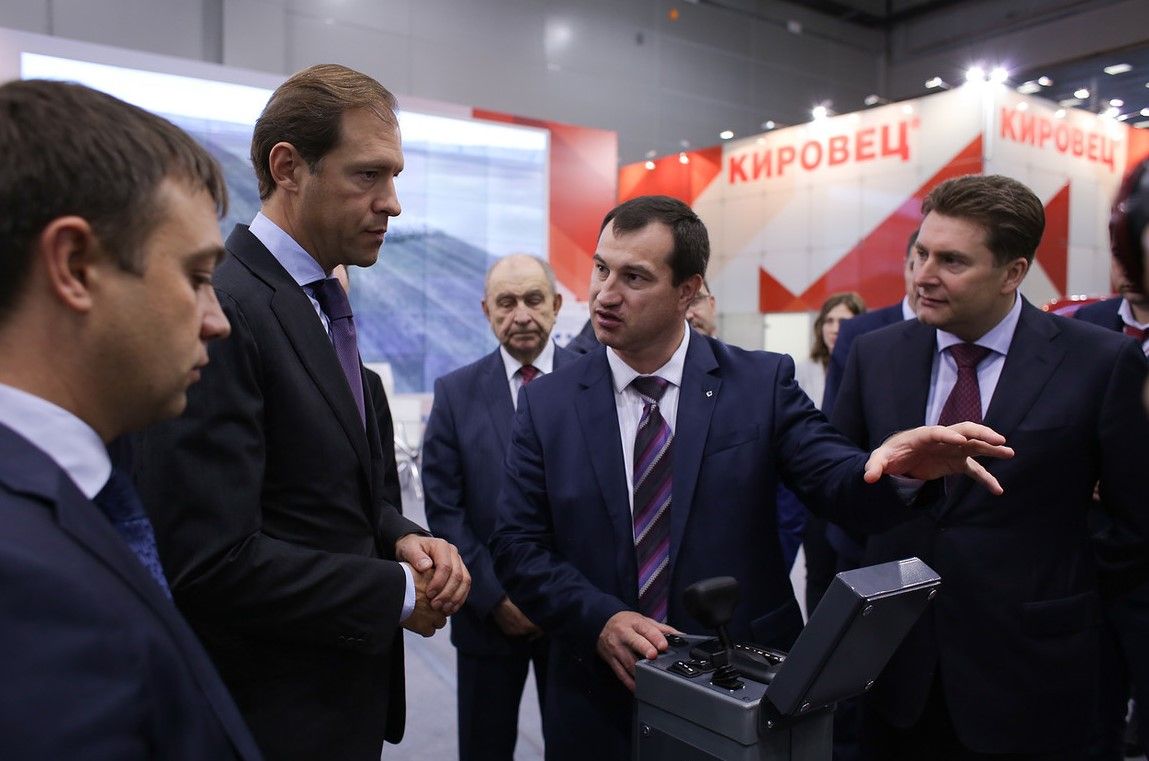 Visit by the RF Minister of Industry and Trade, Denis Valentinovich Manturov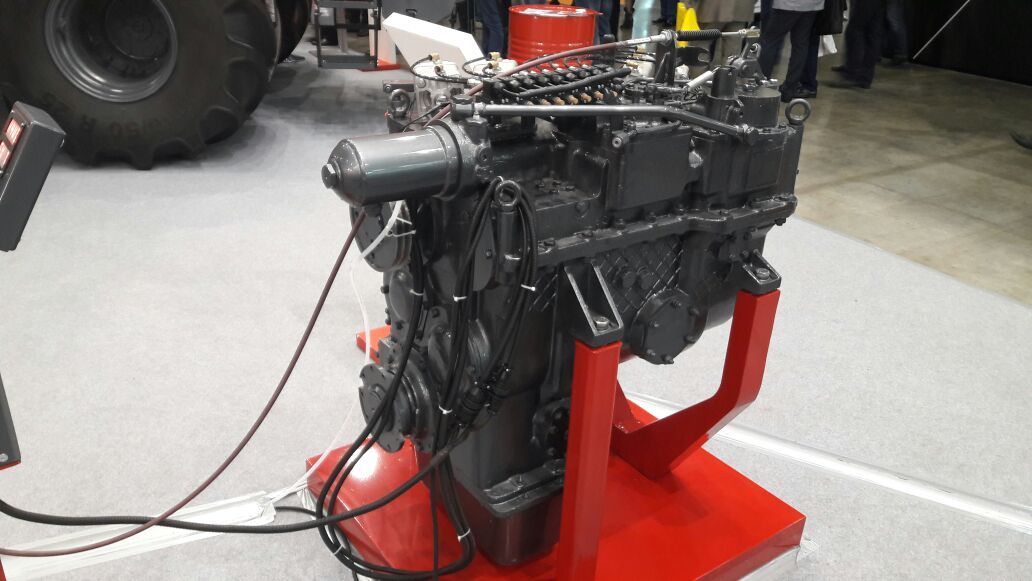 The plant's latest breakthrough – the "T5" automated gearbox and "COMMANDPOST" operating system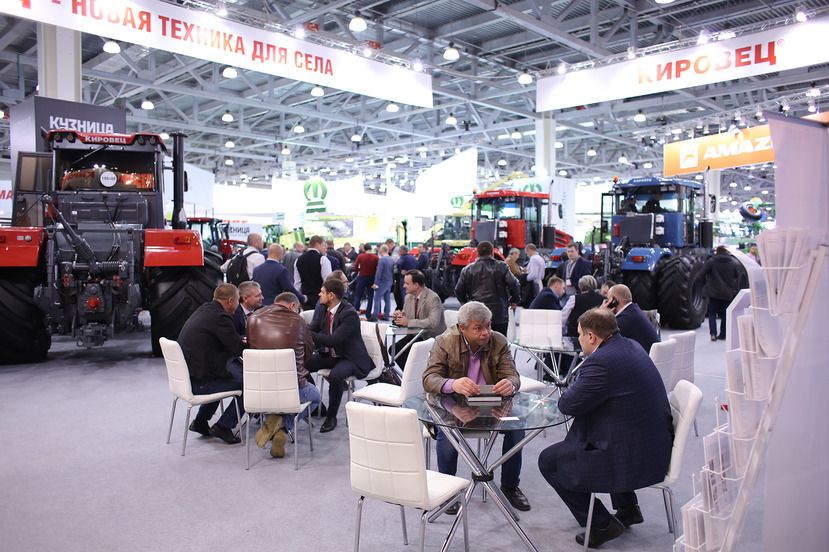 Down to business at the stand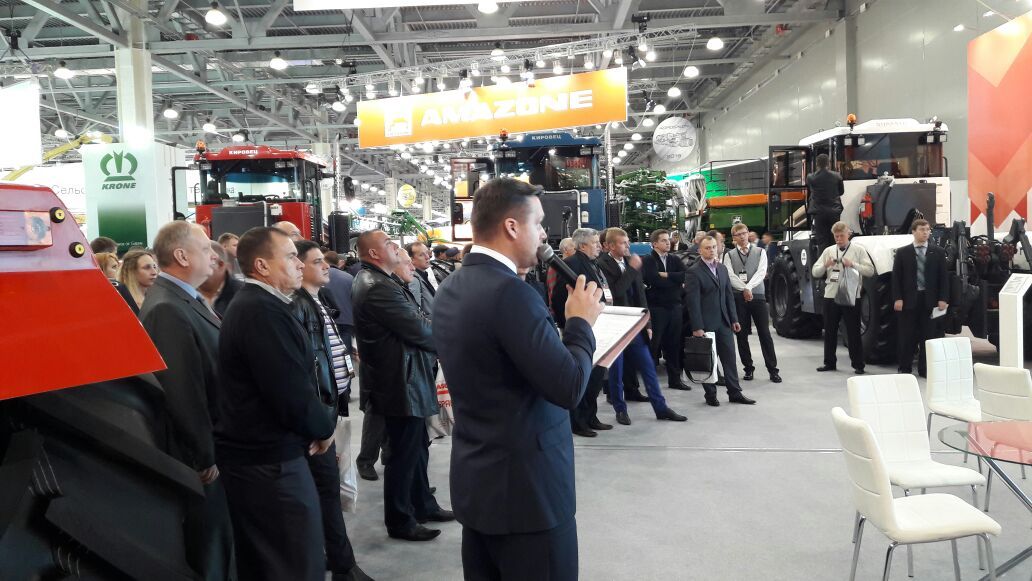 Debut presentation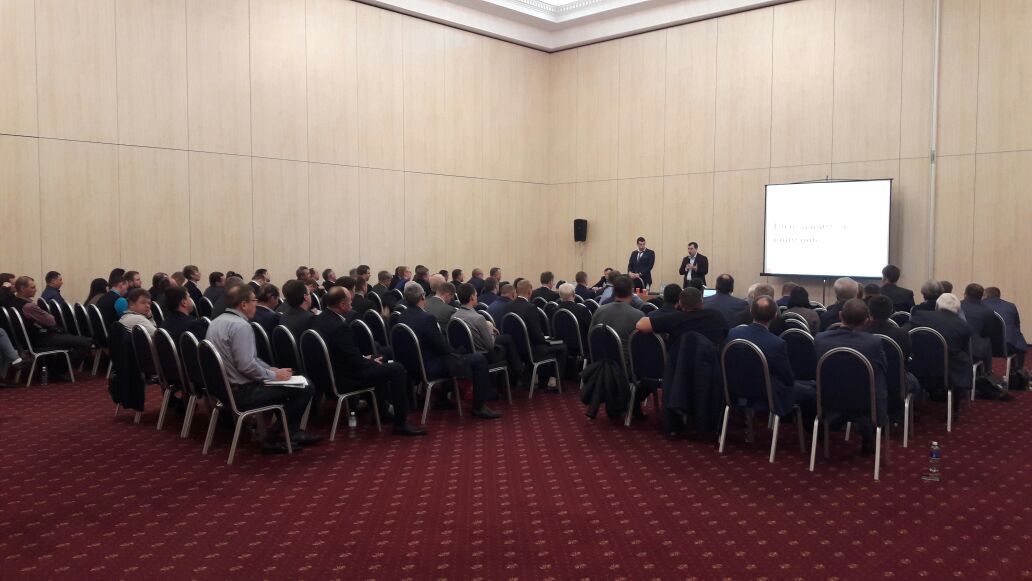 In session at the Plant's Dealer Conference, attended by more than 100 participants from around the world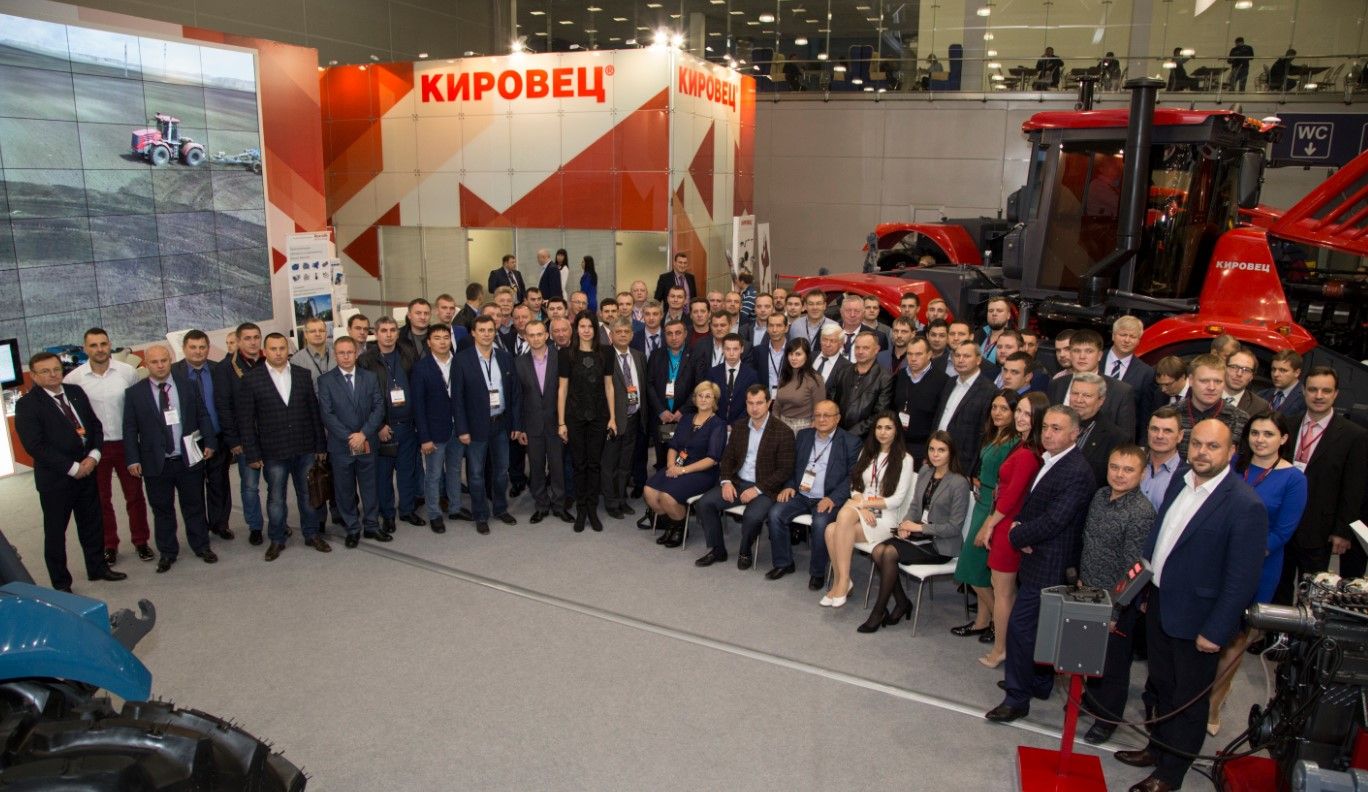 Peterburgsky Traktorny Zavod dealers at the company stand